Song Information
Edit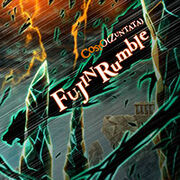 Artist: COSIO(ZUNTATA)
Composition/Arrangement: COSIO(ZUNTATA)
BPM: 96-192
Genre: Game
Default Skin: BASIC
First Appearance: Groove Coaster EX
Other Appearances: None.
None.
Song Connections / Remixes
Edit
FUJIN Rumble is the original composition for the Tenkaichi Otogesai event from maimai composer Hiro, representing the wind element.
FUJIN Rumble is part of the Tenkaichi Otogesai crossover event between Groove Coaster EX, jubeat saucer fulfill, maimai ORANGE and Taiko no Tatsujin Kimidori Version.

In Groove Coaster EX, FUJIN Rumble was available only on machines located in stores participating in the competition, during which it could be played for the duration of the event.
On 16/02/15, FUJIN Rumble was made publically available in Groove Coaster 2 Heavenly Festival as a default song.

FUJIN Rumble, like all the Tenkaichi Otogesai songs, lacks unique titles.
On the GROOVE COASTER 2 EXTENDED PLAY album, COSIO is credited as COSIO from ZUNTATA.
Difficulty & Notecounts
Edit
Ratings and notecounts obtained from wikihouse.
Game
Difficulty
Target
Ad-Lib
Full Chain
Max Score
Groove Coaster EX - Present
SIMPLE
5
291
22
1,442
1,000,000
NORMAL
8
465
22
2,100
1,000,000
HARD
10
773
22
3,298
1,000,000
EXTRA
-
-
-
-
-